Thursday October 3, 2019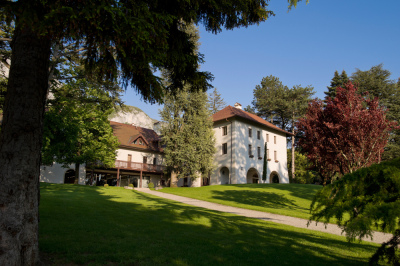 Reception at Les Pensières
Check-in, refreshments, name tags. iPads will be available for those who need them. All FEH working documents will be available on its website.
Shuttle arrives at Les Pensieres
TGV from Paris arrives at Annecy at 1:29pm
Opening Session
Welcoming address by the Steering Committee:
Opening round-table
Room Charles Mérieux 
Moderator :
Virginie Troit, Member of the FEH Steering Committee
Speakers :
Cécile Aptel, Directeur des Politiques, Stratégie et de la Formation, Fédération Internationale de la Croix-Rouge
Claus Haugaard Sorensen, ancien DG- ECHO
Dr. Richard Kojan, Président, Alima
What has really marked the humanitarian sector in the last 10 years? What have been the constants? The developments? The fractures? What lessons have we learned today? What should be noteworthy in the next 10 years?
Photo & Coffee break
Workshop 1
Room Charles Mérieux (Upper Part)
Referents:
Florence Daunis, Deputy Director General of Operations and Technical Resources, Handicap International Federation
Alexandre Giraud, Director General, Solidarités International
Michael Neüman, Director of Studies, CRASH-MSF
Facilitator: Karl Blanchet
The transformations of humanitarian access will be addressed here from the angle of asserting/reaffirming the sovereignty of States, the administrative constraints imposed on the one hand, and the politicization of aid on the other. The impact of the changing nature of conflicts will also be discussed, as well as the increasing use of local organizations and personnel to increase risks. What adaptations, mechanisms and practices can be put in place by our organizations to deal with these developments? What role should collective advocacy play at European level?
Workshop 2
Room Simone Mérieux
Referents :
Antonio Donini, Initiative United Against Inhumanity, Tuft University
Cécile Duflot, General Director, Oxfam France
Facilitator : Boris Martin
Issues related to citizen involvement and individual commitment in our organisations. What are the new types of commitment that express solidarity? Citizen involvement: how to re-enlist support, generate greater impact on policies, address the major challenges related to global warming, respect for international law, inward retreat, and the rise of extremism? How to attract the younger generation? How to extend the democratic process? How can we engage with citizens' movements active outside the framework of so-called "traditional" NGOs in both the North and the South? The matter of advocacy and the focus on innovative modes of action: "judicialization" and the search for new alliances in civil society.
Workshop 3
Room Charles Mérieux (Lower Part)
Referents :
Nan Buzard, Head of Innovation, ICRC
Marie-Pierre Caley, General Director,ACTED
Emmanuel Guillaud, Lead Secretariat,Transformational Investment Capacity (TIC), MSF
Facilitator : Audrey Sala
Today, how should we understand "innovation"? Should this term be restricted to development and the use of new technologies (virtual reality, unmanned vehicles, etc.)? Is innovation an expedient that humanitarians use to rationalize their own existence and their own relevance as they modernize their long-established courses of action? What are the troubling, the experimental, and the ethical aspects of innovation? Is a new form of humanitarian aid emerging? Have we not overused the term "innovation"? Is it still synonymous with added-value? With progress?
Workshop 4
Room Ogobara Doumbo
Referents :
Jean-Baptiste Lamarche, RLH representative, Bioport and Logistics Director of ACF-France
Manuel Patrouillard, Director, Handicap International Federation
With the participation of Serge Breysse, Operational Director, GloPID-R Sec
Facilitator: Jean-Baptiste Richardier
French NGOs have proven that they can leverage alliances and coalitions, even mergers, often with a significant impact. It's not the case with the pooling of their resources….
In an increasingly complex world, where our very existence is being challenged, how can we re-articulate the games of actors in this field, beyond the consortia established to meet the expectations of donors? How can we work together to develop new initiatives, the impact of which can have a major impact on our effectiveness as well as that of our alliances?
Free time
À Cœur Ouvert – Straight-talking interview
Charles Mérieux Room
Éric CHEVALLIER, Director, Crisis and Support Centre, Minister Plenipotentiary
Exchange led by facilitator Anne HÉRY, member of the FEH Steering Committee

Dining Cocktail at Les Pensières