Friday October 4, 2019 – The FEH meets with the ICRC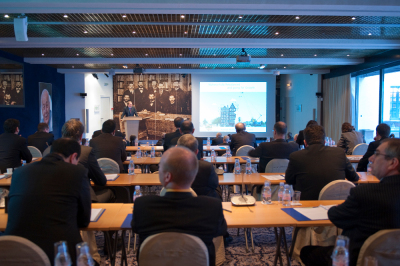 Bus leaves for Geneva
Please do not forget to bring a valid ID.
Arrival and reception at ICRC headquarters in Geneva
Meeting with Yves Daccord, General Director
Humanitarium 
What expectations do French NGOs have of the ICRC? How does the ICRC view French humanitarian NGOs and existing partnerships?
Lunch – ICRC's invitation
Meeting with the department's directors
Humanitarium 
1:45 – 2:45pm: Meeting with Charlotte Lindsey, Director in charge of digital transformation
2:45 – 3:45pm: Meeting with Sarah Epprecht, Deputy Director of Operations on evolving humanitarian needs and ICRC responses
3:45 – 4:45pm: Meeting with Maria Thestrup, Head of the Compliance Unit on the establishment of a Compliance Office at ICRC
Coffee break
Recap of the workshops by group reps
Humanitarium 
Note: One slide for each group's recap will be made available.
Plenary discussion on the ideas generated during the sessions
Humanitarium 
Presentation of the inter-ministerial evaluation system for the Humanitarian Emergency Fund (2015-2018) by Matthieu Lacave, Technopolis
Moderator: Alain Boinet, Founder, Solidarités international
Keynote speaker: Dr. Cornelia S. Walther, Founder of POZE
Bus leaves for Les Pensières
Group Photo & evening event
BBQ at Les Pensières followed by a convivial moment.