Thursday January 18, 2018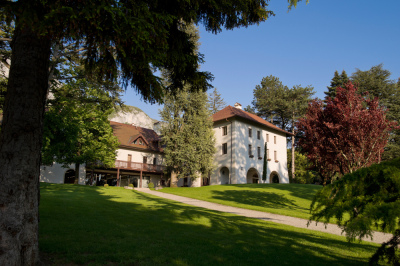 Reception at Les Pensières
Check-in, refreshments. FEH program materials containing the biographies and documentation, are retrievable on the Ipads to be distributed to participants.
Shuttle arrives at Les Pensieres
TGV from Paris arrives at Annecy at 1:29pm

Opening Session
Welcoming remarks by the Steering Committee:
Round-table: A controversial humanitarian space
Charles Mérieux Room
Moderator:
Jean-Baptiste RICHARDIER, member of the Board and co-founder, Humanitarian Alternatives
Speakers:
Dr. Thierry ALLAFORT-DUVERGER, General Director, MSF-France
Antonio DONINI, Visiting Fellow, Tufts University
Marina EUDES, Senior lecturer, Université Paris Ouest Nanterre
Jules FROST, International Director, Medair
Renaud GIRARD, International Reporter
Camilla KNOX-PEEBLES, Deputy Humanitarian Director, Global Humanitarian Team, Oxfam GB
Jean-Baptiste LAMARCHE, Representative, Humanitarian Logistic Network
Melissa PITOTTI, Head of Policy, ICVA
Patrick VIAL, Regional Director for Europe and Central Asia, ICRC
Samuel A. WORTHINGTON, CEO, InterAction
Keynote Commentator:
Prof. Doris SCHOPPER, Director, CERAH
The respect of IHL is diminishing in the face of the growing politicization of humanitarian action and its ever increasing integration into State security and anti-terrorist policies.
A year and a half after the World Humanitarian Summit have proposed solutions been implemented and if so, are they satisfactory? Is the integration of humanitarian action, as an instrument of development, acceptable? Can the situation of the most vulnerable populations possibly improve?

Coffee break
Round-table: A controversial humanitarian space
Charles Mérieux Room
The access of populations in distress to humanitarian aid is the raison d'être of interventions characterized by complex processes involving various actors: governments, international organizations and the Red-Cross movement, international and national NGO's, parties to conflicts, etc. While available resources, and funding in particular, have increased linearly over the last decades, needs have risen exponentially.
What are the answers to this growth variance?
How can we influence choices made by donors?
Can blockages and shortcomings of the Security Council be circumvented?
Free time
A Cœur Ouvert – Straight-talking interview
Charles Mérieux Room
Jan EGELAND, Secretary General, Norwegian Refugee Council
Exchange led by facilitator Anne HÉRY, member of the FEH Steering Committee

Dining Cocktail at Les Pensières