Friday January 19, 2018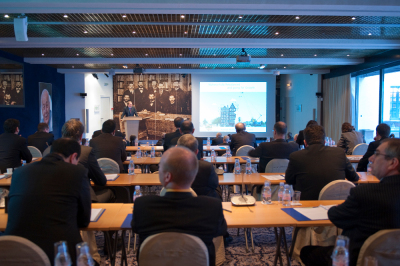 Workshop 1
Simone Mérieux Room
Introduction by Pr. Jean-François MATTEI
Moderator:
Virginie TROIT, Director General, Fondation Croix-Rouge française
Speakers:
Marie-Pierre CALEY, CEO, ACTED
Kévin GOLDBERG, General Director, Groupe SOS Action Internationale
Nathalie HERLEMONT ZORITCHAK, Director, Handicap International Foundation
Manoelle LEPOUTRE, Director, Civil Society Engagement, Total
Boris MARTIN, Editor in Chief, Humanitarian Alternatives
Dorcas ONYANGO, Director, Programs and Partnerships Implementation, The Coca-Cola Africa Foundation
Ignacio PACKER, Executive Director, ICVA
Dr. Robert SEBBAG, former Vice-President Sanofi Aventis
Workshop 2
Charles Mérieux Room
Introduction by Philippe RYFMAN
Moderator:
Amal ABOU EL GHAYT, Advocacy and External relations, Secours Islamique France
Speakers:
Marie BRUNAGEL, Executive Director Public Sector/ Government Services, EY
André CARIA, Senior Fraud Prevention and Investigation Officer, IFRC
Axelle DAVEZAC, General Director, Fondation de France
Alexandre GIRAUD, General Director, Solidarités International
François GRUNEWALD, General scientific director, Groupe URD
Marc GSCHWEND, Cash expert, Swiss Humanitarian Aid Unit, Swiss Agency for Development and Cooperation (SDC)
Philippe LÉVÊQUE, Executive Director, CARE France
Ben PARKER, Senior Editor, IRIN
Henrike TRAUTMANN, Head of Unit C.1, Policy Development and Regional Strategy, ECHO
Dylan WINDER, , Senior Adviser Humanitarian and Protracted Crises / Counsellor, DFID
Coffee break
Espace rendez-vous
Free time for individual or horizontal group meetings on the updates of humanitarian action, suggested by participants themselves.
Two suggestions as of today:
The new "payment against results" policy of institutional donors
Mont Veyrier conference room
Speaker:
Thierry MAURICET, CEO, Première Urgence International (PUI)
Initiative against Inhumanity: Current status and enhancement of the project mobilizing civil societies in the South and North
Simone Mérieux conference room
Invited by the Humanitarian Alternatives:
Nounou BOOTO, Programme Director, Centre for Peace, Security and Armed Violence Prenvention (CPS-AVIP)
Antonio DONINI, Visiting Fellow, Tufts University
Recap of the workshops
With translation services
By the rapporteurs:
Pauline CHETCUTI, Lead of the Humanitarian Commission, Coordination SUD
Magali MOURLON, Program Coordinator and Deputy Director, VOICE
Lunch and group photo
Round-table
Charles Mérieux Room
Introduction of the Round-table by the FEH Steering Committee
Moderators:
Nan BUZARD, Head of Innovation, ICRC; Former Executive Director of ICVA
Speakers:
Dr. Ahmad FAIZAL Mohd PERDAUS, President, MERCY Malaysia, YBhg. Dato'
Bénédicte HERMELIN, Executive Director, Coordination SUD
Runa KHAN, Founder and Executive Director, Friendship
Patrice PAOLI, Director of Crisis and Support Center, Ministry for Europe and Foreign Affairs
Regis SAVIOZ, Head of Delegation France, ICRC
Prof. Doris SCHOPPER, Director, CERAH
Michel SIDIBÉ, Executive Director, UNAIDS
Keynote Commentator:
Francis AKINDES, Africa Vice President of the Scientific Council, Fonds Croix Rouge française
Coffe break
Round-table
Charles Mérieux Room
Introduction of the Round-table by the FEH Steering Committee
Buses leave for the evening event
Evening in the Savoyard mountains
Savoyard evening in the mountains with musical entertainment and a torch-light sledge descent to conclude the evening (for those who wish).
1st bus leaves for Les Pensières
2nd bus leaves for Les Pensières